What Is IconDropper?
IconDropper is a software program that allows you to customize your Mac's icons on-the-fly through the use of Drag-n-Drop technology. Instead of having to copy and paste custom icons from many different locations on your hard drive, IconDropper stores all icons in custom designed sets called "packs". A single click is required to update any folder's icon and see the results in real time.
Why Use IconDropper?

Set custom icons with a single click

Packed icons save valuable hard drive space

Eliminates wasted time of "copy & paste"

Ensures backwards compatiblity in Mac OS 8.5

Organizes icons in lists similar to the Finder

Integrated in the Finder using Contextual Menus

"Quick Link" access to icon author's web sites

Contains a host of additional icon tools

Listen to what
others have to say
!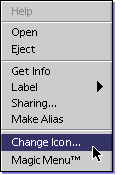 Forget cutting and pasting! Changing the icons on your Mac's desktop has never been easier. Through the use of Mac OS 8.5 and IconDropper's contextual menus, custom icons are just a single click away.
Simply Control-click on a folder or file you wish to set an icon for. If you have the Contextual Menu extension loaded on your Macintosh, you'll see a menu like this appear. Select the "Change icon..." option to invoke IconDropper and bring up your custom list of icon packs. Browse the list of packs and select the icon you want to apply. The icon will instantly be set out in the finder and you can quit IconDropper to return to the desktop. Its that easy!