What Is IconBuilder?
IconBuilder is a filter for Adobe Photoshop™ that makes creating icons for the Macintosh a snap. IconBuilder combines the power and flexibility of Photoshop with the ease of use of
IconDropper
to make a powerful icon creation tool for beginner and advanced icon artists.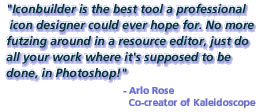 Written by veteran Photoshop filter author - Craig Hockenberry, IconBuilder is the best "real world" solution for creating 32 bit icons for the Mac OS. Thanks to the use of layers (and their transparent properties), Photoshop makes an ideal editor to create the blended shadows, smooth outlines and translucent areas of 8.5+ icons. IconBuilder has the ability to translate any kind of transparent effect done in Photoshop layers, quickly and easily into the world of 32 bit icons for Mac OS 8.5 and beyond.
Keep in mind that IconBuilder itself is not an icon editor. You use Adobe Photoshop as your editor, in combination with IconBuilder as your assembly tool. Using this method, making icons has never been easier!
Why Use IconBuilder?

Creation of true 32 bit icon formats for OS 8.5

Supports transparent/translucent masking of icons

Quickbuild™ feature instantly creates all resources

Extract any icon into Photoshop for editing

View icons on a variety of desktop backgrounds

"BuilderTips" for novice and advanced users

The power of Photoshop with an icon editor

No need for additional tools