You can read all about the individual members of the Iconfactory below, but don't forget to check out our historic
Iconfactory BBQ page first
! Enjoy!.
Corey Marion - Iconist - Iconfactory Founder
xxxxxxxx@xxxxxxxx
Corey's Home Page
My background is fine arts and graphic design for print. Eventually I got involved with the two characters below in CD-ROM design and production. This finally led to my current focus on web design. I have a wonderful wife of over three years and we have a brand new daughter born on July 14th 1998.
Way back in early 1996 there were three Digital Media Designers working together at a place called networkMCI Digital Imaging (alas it is no more thanks to megacorporation "restructuring") who all enjoyed creating custom icons and posting them on AOL and wherever else would accept them. I decided it would be a good idea to consolidate and create a place where people could download all of our sets.
To see the Original Iconfactory click here.
It amazes us all at the amount of growth we have experienced in just two years. Our first major redesign was in April 1997 which expanded the site to to about 6 pages. We are now proud to present a bigger, better site for you to enjoy. The next year should be very exiting for all of us!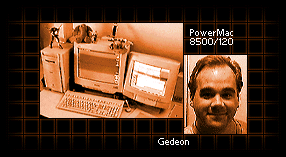 Gedeon Mahuex - Iconist - Foreman
xxxxxxxx@xxxxxxxx
Gedeon's Home Page
I've been a design nut ever since college (RIT). I met Talos my sophomore year in graphic design and we've been friends ever since. Although I had never any formal art training prior to RIT, I had great teachers in both my undergrad and grad studies. I gravitated to the field of computer graphics and eventually completed my master's degree in the field. After RIT, I went to work for Paradigm Interactive here in Greensboro, NC which
was eventually bought out by MCI. This is where Corey, Talos and I formed the Iconfactory. While I was still in school, I chanced to meet the love of my life, Mindy (proprietor of our sister site, the DeskStop), in a graphics chat room. We eventually met, and have been together ever since.

Pet Peeves: The Windows/Intel Duopoly
Favorite Movie: Austin Powers
Quote: "No matter where you go... there you are." - Buckaroo Banzai: Across the 8th Dimension
Gedeon is the genius behind our "How To" section, check it out when you get a chance.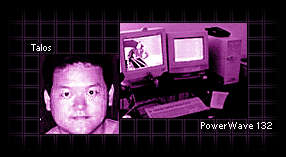 Talos Tsui - Iconist - Production Director
xxxxxxxx@xxxxxxxx
Talos' Home Page
Another RIT grad, Talos brings a wealth of creativity, talent, and education. His connections directly influenced one of our most exciting acheivements. A feature in the Web Surf section of the December issue of WIRED! Click on the cover shot below to see the article.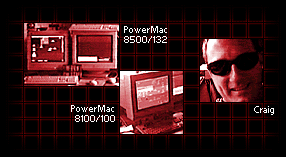 Craig Hockenberry - Software Engineer - Chief Typist
Craig likes to play with his Mac. For typing, for drawing, for learning, for building cool stuff. When he's not chained to the keyboard, he can be found body surfing, getting paint on his jeans, talking with friends or eating paper napkins. He also likes to chase kids while making strange noises. It ain't easy being a software developer. Check out his resume if you'd like.
Craig is the brains behind the brawn of our way cool shareware package IconDropper. Get it now if for some unthinkable reason you don't already have it. And please be sure to register so we can continue bringing you the kind of quality products you have come to expect from the Iconfactory.
Craig came on board after he and the Iconfactory collaborated on IconDropper and it was released successfully to the public. It was a perfect fit for our market. Craig also writes cool Photoshop filters. Check them out at Furbo-Filters.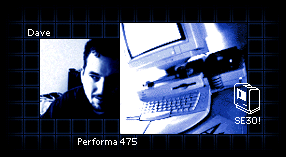 Dave Brasgalla - Iconist - New Guy
Dave's tenure at the Pixelhaus resulted in the production of several extremely cool icon sets as well as KAL schemes and Desktop Pictures. His icons have been rolled into the Warehouse and we have set him up in a corner of the factory with his venerable Performa in anticipation of some brilliant new creations. We are very proud to have his kind of talent and creativity on board!
Any future Iconfactory creations that are not icons will be featured at the Pixelhaus, check it out.