The Iconfactory Backyard Barbecue
(Don't forget to scroll down the page!)

May 1st, 1999 turned out to be quite a historic occasion in icon history. That sunny (and windy) Saturday in Greensboro, NC was the first time all five members of the Iconfactory had ever gotten together in one place. Although these five guys have been working together via the Internet for more than three years, they had never met until that day.

The event was a fun-filled BBQ that brought friends and family together for the first time. We wanted to share some of the images of that day with you, our fans, who have made the Iconfactory such a success over the years.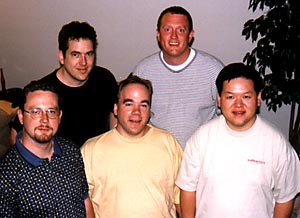 The first picture of its kind in IF history... all the factory workers standing together in one place. Okay, its not Paris or Rome, but Greensboro will do in a pinch. From L to R - Corey Marion, Dave Brasgalla, Gedeon Maheux, Craig Hockenberry & Talos Tsui.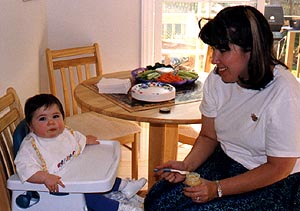 Delaney Marion asks her mom, Cynthia, if she can trade her baby food for a hamburger or hotdog... just this one time.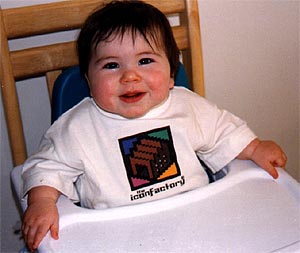 Little Delaney didn't get a hotdog, but she did get into the spirit of the event. She sports her custom made Iconfactory T-Shirt with the best of them!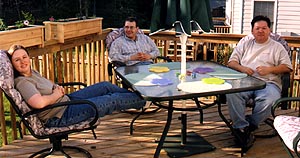 Long time friends Anna & David Miller relax on the deck with Talos before partaking of the Weaver Family chicken wings.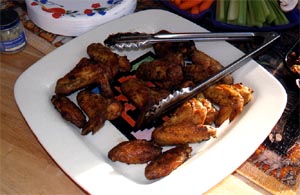 (Before shot) Passed down from three generations of the Weaver family, these wings may look mild mannered, but looks can be deceiving! A love for hot (but tasty) wings is helpful when attending a Mindy & Ged backyard BBQ!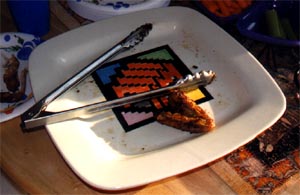 (After shot) As the empty plate proves, the wings were a big hit. Thanks to Talos for the cool IF platter that he made for Ged's B-Day last year!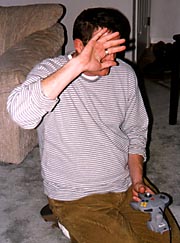 One of the most gratifying moments of the entire weekend... when we realized we had hooked Craig on Nintendo 64. From the soon to be released book - Confessions Of A Nintendo Addict




Let's do this again next year!






Join us for a small photo album of our historic get-together this May. Family, food and fun were the order of the day, and none were disappointed.