Icon Summit - 98 - Our very own Dave Brasgalla made a fun trip to Sweden last September, and while he was there he a few other noted icon artists (who all just happen to live in Sweden) got together for an impromptu "Icon Summit" of sorts. The group paused to snap a shot of the historic moment on the island of Riddarholmen, part of the Gamla Stan in Stockholm, Sweden. In the background is the famous Stadshuset, the city hall.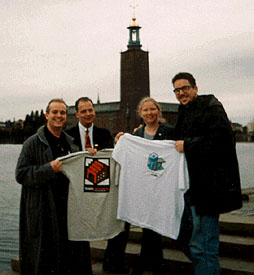 Taken on September 25th, 1998
From L to R: Calle of Calle's Custom Icons (holding the Iconfactory t-shirt),
Magnus of "Swedish Icons", Sara of Sara's Icon Parade,
and our very own Dave at the far right holding a Pixelhaus t-shirt.