The following is a detailed list of some of IconBuilder's main product features. We invite you to learn more about the filter's functions as well as take a
close look
at its interface. If you have specific queries about the filter, we suggest checking out the
IconBuilder FAQ page
as well.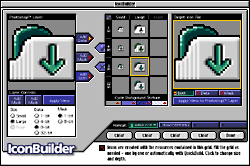 Click on the screen shot for a detailed view
IconBuilder's Powerful Features



Creation of true 32 bit icon formats for Mac OS 8.5
IconBuilder is the first true 32 bit icon editor available for the Macintosh. By combining custom icon data (that you create or import) as well as 1 bit or 8 bit transparent masks from Adobe Photoshop layers, IconBuilder can create icons on your desktop in a matter of seconds. No more fumbling around with clumsy icon editors, IconBuilder does it all.


Supports transparent/translucent masking of icons
Thanks to the 256 levels of transparency possible in a standard Photoshop layer, IconBuilder is able to read these levels and create transparent masks quickly and effectively. Multiple layers can even be combined to create complex transparent or translucent masks that can then be applied to standard icons. You can make the masks yourself, or have IconBuilder make them for you.


QuickBuild™ feature creates all icon resources in a single click
No more building an icon resource by resource. If you want the ease of creating all versions of an icon instantly, IconBuilder's "QuickBuild" feature gives it to you. Using this feature, you can get all the basic resources (data and masks) created and saved. If you want to tweak them afterwards, that's a snap too.


Extract any icon into Photoshop for editing
With IconBuilder's "Extract" feature you can import any existing Mac icon and see, for instance, how a particular icon's 8 bit mask was created. Using the "Apply to Photoshop Layer" feature, you can then paste either the icon's visual data, the icon's mask, or both back out into Photoshop for editing.


Cycle backgrounds to view icons on a variety of desktops
Want to know what your transparent icon will look like against a background other than gray? IconBuilder lets you select from a multitude of solid colors as well as detailed desktop textures to display your work against. Check how your icons look against both "normal" and "funky" Macintosh desktops.


Instant access to "BuilderTips" for novice and advanced users
The filter comes with roll-over help called "BuilderTips" to help you find your way around the interface until you're comfortable with the controls. These tips can then be turned off or on when needed.


IconBuilder does it all - no need for additional icon editors
Perhaps IconBuilder's greatest strength is that it is a one-stop tool for creating icons. Since the filter makes use of the ultimate graphics editor - Adobe Photoshop for its editing tools, icon artists need no longer look to multiple programs like ResEdit to create icons. Draw your work on Photoshop layers, launch the filter, build the icon and save. If you need to tweak your work, simply open the saved icon and edit it in IconBuilder or make changes to your original layers file. In addition, creating icons from layers adds flexibility to move , resize, recolor or remask whole icons or parts of icons quickly.

Additional Features

• Reports file sizes of icons as you build them
• Supports Mac OS 8.5 Navigation Services
• Intuitive, easy to use interface
• Future "Pro" support for Mac OS X & Windows™ icons
Please go to the
FAQ
for more detailed information.








If you came to this page via an external link and can't see the black navigation bar along the top of the page, then click here.



IconBuilder combines the power of the ultimate graphics editor - Adobe Photoshop, with the ease of use of IconDropper, making a powerful icon creation tool for both beginner and advanced users.






We are dedicated to the seemingly nonexistent art of designing awesome freeware icons for your Mac.

Comments, or requests should be sent to
webmaster@iconfactory.com.