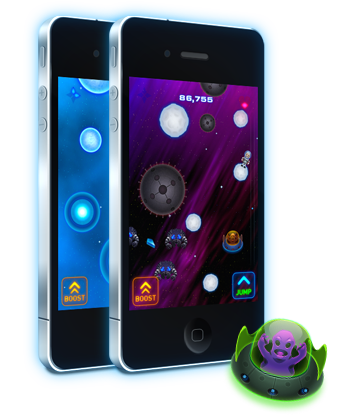 Astronut
Upgrade to the full game in-app for just 99¢
Also available for iPad
Let gravity and guts be your guide as you blast off on a planet-hopping adventure of cosmic proportions!
Explore the Universe

Jump from planet to planet to explore sectors, collect star shards & earn bonuses.

Remote Control

Use Astronut on your iPhone as a remote to control the game on your iPad over wireless/bluetooth.

Gravity is Your Guide

Slingshot around worlds to earn 'hangtime' points. Bigger jumps are better!

24 Challenging Levels

Addictive, arcade style action perfect for both beginner and advanced gamers.

Game Center

Post high scores online and unlock dozens of fun, challenging achievements.

Stunning Graphics

Beautifully rendered, retina-ready graphics that bring your cosmic adventure to life.

Free to Try

Download and play absolutely free. Purchase the full game in-app for just 99¢.
Problems viewing? Check out the video on YouTube.