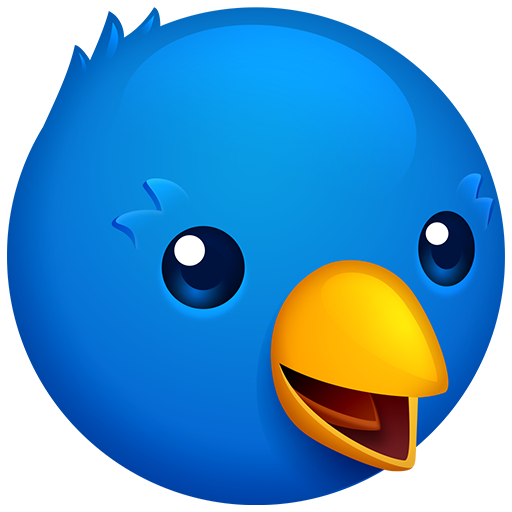 Twitterrific
Tweet Your Way
No ads, promoted tweets or "while you were away" updates cluttering your chronological timeline.
Muffle Tweets

Muffle or mute people, hashtags, and domains to keep your timeline free from spoilers and unwanted tweets.

GIFs & Videos

Find the perfect meme via Twitterrific's built-in GIPHY search, watch GIFs & videos right in the timeline.

Fully Accessible

Navigate the timeline, compose tweets, and even attach image descriptions quickly and easily using VoiceOver.

Tweet In Style

A range of light and dark themes make browsing your timeline fun. Pick a custom home screen icon & much more.

Read Anywhere

Sync your reading position between Mac and iOS devices for a seamless Twitter experience.

Delete & Edit Tweets

Fix a typo or mistake in your tweets with a single tap. Twitterrific makes correcting mis-tweets a snap!
Version History
Bug fixes associated with ALT text descriptions for improved accessibility.
Twitterrific 6.3.9
August 2022
BUG FIXES
Fixed a problem with ALT text when the the app is in small thumbnail mode
The scroll bar no longer flashes on the alt text box since it is sized to fit the text
The alt text box now correctly resizes itself to fit the text when swiping between multiple images in the media viewer
Twitterrific 6.3.8
July 2022
NEW FEATURES
New alternate app icons:

Sunflower
Green Wave
Spockerrific

New dark theme: Kestrel
New muffle rules for filtering the timeline:

Added two new keywords to the muffle rule syntax: "media" and "inaccessible"
Muffle tweets that have attached images, videos, or GIFs: media
Muffle tweets with media from a single user: @username media
Muffle tweets that have media but no alt text: inaccessible
Muffle inaccessible tweets from a single user: @username inaccessible

View alt text descriptions when available for images and GIFs:

Tweets with media that include alt text will now show an ALT badge on thumbnails in the timeline
Tap the ALT badge to open the media and display the image's description
Media with alt text displays an ALT button in the full screen view
Tap the media's ALT button to toggle the description on / off
Tap anywhere on the alt text panel to copy the description text
When tweets in Center Stage mode, the alt text panel will show/hide depending if descriptions are available
IMPROVEMENTS
Increased the size of attached media thumbnails in the compose view
Images and GIFs that are missing alt text will show a blue +ALT badge in compose to remind you to add alt text
The field for adding alt text to images/gifs was expanded to two lines to make it easier to add descriptions
Increased the preview size of GIFs in the GIPHY picker
Reduced load time of GIPHY preview thumbnails
GIPHY attachments automatically use the GIF's title as the default alt text
Twitter does not accept alt text for videos, so the attachment editor no longer shows the alt text input box for videos
The media viewer's controls no longer fade in/out when paging through tweets in Center Stage mode
BUG FIXES
Fixed a blurry play icon on video and GIF attachments in the compose view
Compose shows the right number of page dots when removing attachments
Fixed several bugs that caused the compose attachment editor to not respect the device safe area when using an external keyboard
Fixed problems that could cause the tweet timestamp label to stop updating
The media viewer's paging control now respects the device's safe area
Fixed a bug that caused videos to stay paused after using the rewind button in Center Stage mode
Fixed a glitch where the video player's bar could disappear when a video is loading and then never reappear
4 new features, 8 improvements, 7 bug fixes
Twitterrific 6.3.7
June 2022
IMPROVEMENTS
Added a "Report Spammer" option to the tweet context menus so you don't have to open the author profile to block and obvious spammer/scammer
Added an error alert that pops up when tweet translation fails instead of failing silently
Disabled autocorrect on search fields
3 improvements
Twitterrific 6.3.6
January 2022
IMPROVEMENTS
Added a new Snowbird icon
BUG FIXES
The "My Tweets" timeline is now accessible via a keyboard shortcut (CMD-5)
1 improvement, 1 bug fix
Twitterrific 6.3.5
October 2021
IMPROVEMENTS
Added a new shortcut for "My Tweets" to the sidebar
BUG FIXES
Fixed broken keyboard navigation of the timeline on iOS/iPadOS 15+
Fixed the CMD-Return keyboard shortcut for sending tweets and DMs on iOS/iPadOS 15+
Removed extra padding of some interface elements added by iOS/iPadOS 15+
Fixed a VoiceOver navigation issue when Always Show Sidebar was enabled
Fixed a bug that sometimes caused the status bar to switch to the wrong color
Fixed some visual bugs on the list editing screens
1 improvement, 6 bug fixes
Twitterrific 6.3.4
October 2021
BUG FIXES
Fixed context menus that wouldn't open when using an iPad running iPadOS 15 while attached to a keyboard.
1 bug fixes
Twitterrific 6.3.3
July 2021
BUG FIXES
Fixed an issue that caused parts of tweets to render with the wrong theme
Fixed a crash when opening the attachment viewer after attaching a video or GIF
Fixed several bugs that caused crashes on recent versions of iOS and iPadOS
Addressed some edge cases when saving, restoring, and syncing scroll position
4 bug fixes
Twitterrific 6.3.2
June 2021
IMPROVEMENTS
Moved "Find" to the first position in the timeline context menu
Improved timeline performance when scrolling and updating
Further improvements to make playing of videos even more reliable
Scroll position is saved locally for temporary timelines (like search results)
BUG FIXES
Incorrect tweets no longer displayed if your screen name contains an underscore
Conversation views no longer remain in memory even after they are closed
Fixed layout problems of the unread indicators in the bottom navigation bar
4 improvements, 3 bug fixes
Twitterrific 6.3.1
May 2021
IMPROVEMENTS
Added back a shortcut for "Show Discussion" to the tweet action menu
Renamed the timeline action "Jump To Last Unread" to "Jump To Unread"
Improved the performance of audio ducking when using the media viewer
Scrolling in Center Stage mode no longer scrolls the timeline behind it
Activating Center Stage mode from the timeline menu now opens to the nearest media tweet without jumping to the top
Tapping on the tweet preview in Center Stage mode returns to the timeline and scrolls the tweet into view
Bottom Navigation Bar
New presentation preference to hide the bottom navigation bar
Tap on the currently selected tab to jump to the top of the timeline
Long-press on the selected tab to open that timeline's menu
Long-press on unselected tabs to customize and switch tabs
Adjusted the size of the tab buttons to avoid accidental taps
Accessibility
Added VoiceOver labels to GIPHY search results
Added VoiceOver labels to the media thumbnails on profile views
Added a shortcut for "Share" to the VoiceOver rotor actions for tweets
Scrolling the timeline now marks tweets as read when VoiceOver is enabled
Improved home's top and bottom bars to prevent tweets from being selected through the bars when using VoiceOver
BUG FIXES
Fixed an issue preventing videos from playing inline and in the media viewer
Fixed a bug that caused offscreen timelines to accidentally scroll to the top
Fixed an issue with Find and Search fields that interfered with text input while using certain non-english keyboards like Japanese
Fixed several rare crashes
16 improvements, 4 bug fixes
Twitterrific 6.3
May 2021
FEATURES
New pull-down menus in the header title of each timeline make taking specific actions quick, easy and discoverable:

"Find" - Toggles the search bar for the selected timeline on and off
"Refresh" - Fetches new tweets (same as pull to refresh)
"Center Stage" - Quickly page through tweets that only contain media
"Share Discussion" - Quickly share discussion threads with others
"Save Search" and "Delete Saved Search" - Save or delete search results
"Configure List" - Edit list options such as title, privacy and description
"Jump To Latest Unread" - Quickly jump to the most recent unread tweet
"Jump To Marker" - Instantly jump to your synced reading position
"Jump To Top" - Skips intervening tweets and jumps to the top of the timeline

New pull-down menus on tweets for quick access to tweet actions:

Tap on action button (...)
Long-press on the tweet body
Long-press on links within a tweet
Long-press on the tweet's reply, quote, like buttons
Long-press on thumbnails
Long-press on quoted tweets
"Open" - Opens the tweet or link using the default app
"Copy" and "Copy Link" - Copies text or links for convenience
"Share" - Send a tweet or link to another app

New pull-down menus in other places throughout the app:

Tap on tweet composer's account picker to switch accounts
Tap on tweet composer's thread mode button to start or continue a thread
Long-press on tweet composer's photo button to quickly attach media
Long-press on home timeline's tab bar buttons to set custom tabs
Long-press on profile's follow button to follow with various accounts
Tap on DM's photo button to quickly attach media or GIFs
Added a "Copy" action to the screen name label on profile views
Tap on profile's action button (...)
When VoiceOver is enabled, access the new pull-down menus using the triple-tap gesture; when VoiceOver is active tweet pull-down menus include a "More Actions" menu with some additional actions such as replying, quoting, or liking from another account, viewing thread participants (if any), and opening a tweet's attached location (if any).
IMPROVEMENTS
Moved the Home timeline's customizable tab bar to the bottom of the screen
Search can now be added as a custom tab bar slot on the Home timeline
Adopted the native iOS photo picker when attaching media to tweets and DMs
Added a haptic vibration after a timeline refreshes and new items have loaded
Improved the overall layout of the Search view and trending topics
Discussion timelines now have a counter that indicates how many tweets are above the visible portion of the screen
Long-pressing on a tweet and tapping the tweet's action menu now open the same menu with the same options
Added keyboard shortcuts for "Jump To Marker" (CMD-Shift-J) and "Jump To Latest Unread" (CMD-J)
Removed the persistent search bar from the top of all timelines
Removed the confusing "magic scrolling" behavior when tapping on a timeline title or tab icon
Updated the icon for Saved Searches
BUG FIXES
Updated the Amelia font to correct an issue where some unicode fractions appeared with the wrong value
Fixed bugs that could cause timelines to jump to the wrong scroll position
Fixed an issue when scrolling between tweets in center stage mode
Fixed an issue preventing the theme from switching between light and dark when using the automatic mode
3 new features, 11 improvements, 4 bug fixes
Twitterrific 6.2.2
February 2021
BUG FIXES AND IMPROVEMENTS
Improved reliability when autoplaying video previews
New, clearer placeholder icon for thumbnail images that fail to load
Fixed a bug preventing drafts from being tappable in the compose screen
Improved the results when searching Swear Trek GIFs in the attachment view
The full screen media viewer is smarter about preloading the next images when a tweet has more than one
Fixed an issue that made it difficult to use certain non-english characters when editing accessibility text of tweet attachments
Fixed detection and rendering of email addresses and hashtags that contain non-english characters in profiles
The Follow and Following buttons now disable themselves while communicating with Twitter so you don't accidentally undo the action by tapping again
8 bug fixes and improvements
Twitterrific 6.2.1
September 2020
NEW FEATURES
New Custom App Icon: Stay Safe
IMPROVEMENTS
Improved display and playback of media in Twitterrific:

New playback controls to easily scrub while watching videos
Airplay icon to share media across devices quickly and easily
Appearance of controls match the selected theme

VoiceOver and Accessibility:

Support for performing actions from another account
Replying, quoting, or liking a tweet
Alt-text character limit increased to 1000 to match Twitter

CMD-Shift-O opens the selected tweet in your browser
Improved handling of tweets in the timeline
BUG FIXES
Selecting an action from the share sheet no longer dismisses popup view
Fixed an issue preventing opening links in external browsers on iOS 14
Fixed issues that prevented lists from opening when using the URL scheme
Fixed a bug making it possible to input long location strings in user bios
1 new feature, 4 improvements, 4 bug fixes
Twitterrific 6.2
June 2020
IMPROVEMENTS
Added another fun new app icon: Ollie Nook
App-wide mouse and trackpad pointer effects on buttons and controls
Moving your trackpad or mouse to the left edge of the screen opens the sidebar
Using a trackpad, dismiss the media viewer via a two-finger upward swipe
When composing a DM, CMD-Left now moves the cursor to the start of the line
Added a two-finger horizontal swipe gesture to activate the tweet reply or discussion shortcuts from a trackpad
Added CMD-Period as well as Esc and CMD-W as keyboard shortcuts for closing various popup views
BUG FIXES
Fixed an issue with some menus that were clipped when presented on iPad
7 improvements, 1 bug fix
Twitterrific 6.1.6
February 2020
IMPROVEMENTS
Greatly Improved timeline scrolling performance
Media thumbnails fade in after loading instead of abruptly appearing
Video thumbnails are less likely to restart in the middle of playback
Ability to edit participants when continuing a thread that mentions other users
Clarified threaded tweets by adding a new "thread" label in the timeline
Tapping a tweet's participants label opens user profiles instead of the thread
New icon on the participants label to reinforce the interaction change
BUG FIXES
Fixed an issue causing a blank screen after having been in the background
Double-tapping icons in the compose screen no longer causes problems
Fixed a rendering glitch that could cause the timeline to jump or stutter
Fixed alignment of the center stage button when a timeline first appears
Fixed several rare crashes
7 improvements, 5 bug fixes
Twitterrific 6.1.5
January 2020
NEW FEATURES
New Threading options when composing tweets:

Have a lot to say? Tap the thread button to create a series of linked tweets
Start a new thread or pick an older tweet to continue where you left off
When threading is enabled, the compose window will re-open immediately after posting each tweet allowing you to thread them in quick succession

Save videos or animated GIFs right from the timeline:

Long-press on a video preview thumbnail inline or from within the media viewer
Add video files directly to your photo library or share them using another app

Setting to prevent your device from sleeping while Twitterrific is open:

Great for monitoring your timeline while using automatic refresh
Requires that the device is attached to a power source
Setting is disabled by default
IMPROVEMENTS
Clarified the policy for the Forever option on the purchasing screen
Reduced time needed to finish processing before entering background mode
Significant improvements to the internal database maintenance routines
Enhanced performance when updating offscreen timelines
BUG FIXES
Fixed the status bar color on light themes while viewing popups or media
Fixed a bug that could cause thumbnails on the timeline to go missing
Mutes are no longer applied to users that have been banned or deleted
Addressed known issues that cause the app to crash in the background
3 new features, 4 improvements, 4 bug fixes
Twitterrific 6.1.4
December 2019
Fixed several minor crashing bugs and addressed issues that prevented background refresh from working.
An adorable alternate app icon we have added also.
I have spoken.
Some bug fixes and a new alternate app icon
Twitterrific 6.1.3
November 2019
IMPROVEMENTS
Added haptic feedback when you get close to running out of characters while composing a tweet (iPhone)
BUG FIXES
Timelines no longer jump to the top after having been off-screen for awhile
Edge swiping in conversation threads and user profiles now navigates backwards in the stack as expected instead of dismissing the view
Fixed a problem where an unfollowed user's tweets weren't immediately removed from the timeline
Fixed several unusual crashing bugs
1 improvement, 4 bug fixes
Twitterrific 6.1.2
November 2019
BUG FIXES AND IMPROVEMENTS
Added a new app icon for Thanksgiving
Fixed an issue that caused VoiceOver to sometimes read "null" in place of the tweet text
Fixed a bug that could cause VoiceOver to read random usernames before the text of some tweets
3 bug fixes and improvements
Twitterrific 6.1.1
November 2019
IMPROVEMENTS
Swiping back from the left edge of the screen will now dismiss conversation and profile popups on both iPad and iPhone
Screen-edge gestures play nicely with tweet gestures like swipe to reply
Compose no longer dismisses when the GIPHY and Drafts panels are swiped down
The in-app Safari view adjusts appearance based on your current theme (iOS 13)
Improved performance when entering and leaving background mode
Improved thumbnail detection for tweets with Flickr links
BUG FIXES
Fixed a rare crash when the keyboard appeared or disappeared
Fixed a potential crash when loading non-Twitter thumbnail previews
Fixed a potential crash when navigating the timeline using VoiceOver
Fixed an issue that could result in getting stuck on a loading view when an account needed to be re-authenticated
Addressed issues that may have caused incorrect timeline positions after returning to the app
Bug fixes and improvements
6 improvements, 6 bug fixes
Twitterrific 6.1
October 2019
NEW FEATURES
Automatic theme switching for iOS 13:

Select your light or dark theme automatically based on the system appearance
Twitterrific's classic sunrise / sunset mode is still available
Adjust system / auto / manual theme switching in the Appearance panel

Support for multiple windows on iPadOS 13:

Open as many windows as you want
Keep tabs on different accounts or open the same account many times
Each window remembers its own tab customizations and account selection

Multiple ways to open a new window on iPadOS 13:

Drag a new copy of Twitterrific from the home screen dock to iOS split view
Drag and drop the sidebar button to create a new window for that account
Drag any account out from the account picker panel
Long-press on an account in the account picker
IMPROVEMENTS
Popup views now use the native card-style behavior on iOS 13
'System Font' was updated to the rounded variant of the font on iOS 13
Alerts, menus & controls are themed based on your Appearance preferences
Ability to pin the sidebar open on large screens regardless of device orientation
Improved behavior of views that move or resize when the keyboard appears
Improvements to keeping the reading position in sync
Improved the accessibility of the account picker
Pulling-to-refresh no longer obscures content
Profile views load their content more smoothly
GESTURES & SHORTCUTS
On iPad, popup views can be dismissed with a quick swipe down anywhere outside of the popup or via the window's titlebar
A single tap on the sidebar button now quickly opens the account picker if the sidebar is pinned open
Changed the keyboard shortcut for switching between tabs on the main timeline to Control-Tab and Control-Shift-Tab
Changed the keyboard shortcut for switching between accounts to Option-Tab and Option-Shift-Tab
BUG FIXES
Links now open in the correct external browser
Fixed visual issues when loading profile views
Fixed problems with external URL or shortcut requests
Fixed layout issues in the compose sub-panels (GIPHY, search, drafts)
Fixed visual issues in the muffle editor that appeared after switching themes
Text labels are no longer truncated when using the bold text accessibility setting
Videos no longer continue to play after being dismissed with VoiceOver
Fixed issues for VoiceOver users making it hard to navigate the main tab bar
Fixed the 'Invalid Media' error when tweeting images from other apps
Fixed layout when composing tweets or DMs in slide-over mode on iPad
Fixed multiple crashes that could occur while background processing
Addressed an issue causing some subscribers to have to restore their subscription each month
OTHER
Twitterrific now requires iOS 12.4 or later
3 new features, 9 improvements, 12 bug fixes
Twitterrific 6.0.6
September 2019
Added a bright new light theme: Egret, updated the theme customization readme file stored in iCloud Drive, improved reading position syncing, and fixed several crashes that could occur when entering background mode.
Several improvements and bug fixes
Twitterrific 6.0.5
August 2019
NEW FEATURES
Added a bright, fun app icon: Flamingo
Added a dark theme with red accents: Trogon
IMPROVEMENTS
Quickly muffle retweets from a specific user via the Muffle menu on a tweet
Reduced memory usage by more aggressively purging the image cache
BUG FIXES
Subscriptions no longer appear to be lapsed between each renewal cycle
Fixed several crashes and problems when finishing background processing
Video thumbnails no longer load and autoplay even if thumbnails were disabled
Fixed a crash when inserting a draft or user into a tweet
Fixed a typo on the prompt asking for location permission
OTHER
iCloud Drive theme folders were renamed from Day/Night to Light/Dark
The app icon formerly known as Flamingo was renamed to Pinkachu
2 new features, 2 improvements, 5 bug fixes
Twitterrific 6.0.4
August 2019
IMPROVEMENTS
Fixed an issue opening certain links when using the Microsoft Edge web browser.
Ollie pressed his feather quill on the screen and sighed while trying to think of something clever to tweet. He waited, but no words came to mind. Suddenly he had a vision of a wonderful and mysterious new place filled with fun and distraction! He'll be waiting for you there - if you can find him.
1 improvement, 1 easter egg
Twitterrific 6.0.3
July 2019
IMPROVEMENTS
Added two new colorful app icons: Flamingo and Pride
Background fetching is disabled if "Automatically Refresh Timelines" is turned off
The "Share Discussion" button now uses a standard share sheet
Emailing a tweet now preserves formatting of newlines
Added a grace period between subscription renewal periods to account for payment processing delays
BUG FIXES
Fixed an issue preventing auto theme switching from being correctly applied
Fixed a bug that could cause threads to scroll to the top when first opened
5 improvements, 2 bug fixes
Twitterrific 6.0.2
June 2019
IMPROVEMENTS
Added support for the Microsoft Edge web browser
Added image previews for apps.apple.com links
Muffled tweets now respect the High Contrast Text setting
VoiceOver now respects the Name Format setting when reading author names
VoiceOver no longer reads emoji in quoted tweets when the Allow Emoji setting is disabled
Decreased the frequency of purchase reminders
6 improvements
Twitterrific 6.0.1
June 2019
BUG FIXES
Fixed an issue preventing Dark Theme At Night from working on first launch
Bug fixes and improvements
2 bug fixes
Twitterrific 6.0
June 2019
NEW FEATURES
Video and GIFs silently autoplay directly in your timelines and message threads!

Videos with an audio track show a speaker icon to avoid any loud surprises
Autoplaying of videos and GIFs can be disabled in Settings

View full images right in your timeline!

Tweets or direct messages with an image attachment will display the thumbnail at the photo's native aspect ratio
Tweets with two or more images use adjusted aspect ratios and face-detection to avoid taking up as much space

GIPHY Integration!

Tap the GIF button when composing a tweet or direct message to find just the right snarky animation
Refine your search with the built-in Reactions, Memes, or Swear Trek filters

Support for Twitter's new quoted tweets with media:

When quoting another tweet, you can attach photos, a video, or an animated GIF
The timeline displays both the media you attached and your quoted tweet

View media and add descriptions using the new attachment preview

Tap the small thumbnail of attached media to get a better, bigger look
Easily add accessibility descriptions to all images, videos and GIFs
Swipe between multiple photos to quickly add descriptions to each one

More customization goodies!

Three new playful app icons: Crow, Dove, Neon
Five new colorful themes: Dove, Akikiki , Puffin, Falcon, Parakeet
12 fun new "Olliemoji" stickers added to the bundled iMessage sticker pack
A new font: San Francisco Compact Rounded ('SF Rounded')
A new Presentation setting to show tweet author's full name, username or both
A new High Contrast Text presentation option
Two smaller line spacing steps for tighter text

Help fund continued development of Twitterrific:

No features are locked or restricted - try everything without paying anything
Eliminate banner ads and subscription reminders by signing up for a monthly or yearly subscription
Don't enjoy subscriptions? Purchase the one-time "Forever" option instead
Twitterrific 5 customers get full benefits for up to 6 months from their last purchase date
IMPROVEMENTS
Refreshed glyphs, font weights and colors app-wide
Videos without audio no longer duck audio from other apps
New "Audio and Video" settings category for autoplay and sound effects
Twitterrific ignores the mute switch when playing audio (what most people want)
Added support for the Brave web browser
VoiceOver indicates the type of media and number of photos attached to a tweet
Headings, tab bar buttons, and toggles are marked as such for VoiceOver
VoiceOver magic tap on the main timeline opens compose
Added the VoiceOver escape gesture to all popups
Added animation with compose sub-panels open/close
Changed the default app icon - the previous icon is an option in the theme panel
Popup views on iPad make better use of the available screen space
Selecting a tweet no longer unexpectedly scrolls the timeline
Clearing the search filter no longer loses your place in the timeline
Long press the "Follow" button on a profile to follow with a different account
Long-pressing a user in compose's user search no longer dismisses the view
Clear buttons on search fields only appear when needed
Increased the maximum number of tweets per timeline
Replies to a tweet are sorted by date instead of by engagement
All panels and popups have rounded corners
Private lists have a new icon in the sidebar
The Twitterrific banner ad uses your current app icon
Improved tap area of the location badge on tweets with an attached location
BUG FIXES
Timelines never refresh if the "Automatically Refresh Timelines" setting is off
Fixed an issue where some quoted tweets wouldn't show their quoted URLs
Fixed some Twitter URLs from being incorrectly identified as a link to a user
Fixed Center Stage and DM layout issues on devices without home buttons
Fixed problems preventing the "Open User Page" profile action from working
Fixed a bug that would break user and hashtag autocomplete when swapping accounts while composing a tweet
The "Profile Photo" avatar shortcut (long press) now opens the image in app
Fixed an issue that sometimes caused the banner ad to be blank
Loading reply chains no longer leaves a zombie timeline open in memory
Fixed animation issues while dismissing compose's autosuggestion bar
Profile action popups appear in the correct location on iPad
Accessibility descriptions are properly attached to videos or GIFs when posting
Fixed compose view layout problems after rotating and dismissing the keyboard
Fixed a bug that could cause crashes at launch and when switching accounts
Timelines won't loop forever trying to fill a gap that could never be filled
Timelines no longer unceremoniously stop scrolling when decelerating
Timelines can update in the background while being filtered by a search query
Fixed timeline position issues when clearing the cache or adding a new account
Fixed display issues with the alt app icons while scrolling the Appearance Panel
Fixed a problem causing the timeline loading indicator to flicker
Fixed several issues that caused crashes when clearing the cache
The keyboard no longer appears while viewing drafts
Trends are now correctly sorted by popularity
Removed old and obsolete code
OTHER
Requires iOS 11.2+
Upgrading from a prior version may result in previously read messages and tweets being marked as unread
Added iCloud Drive to enable support for customizing themes (experimental, undocumented and unsupported - but if you peek in the folder, you might find some tips for getting started)
Removed support for Tweet Marker since the service is shutting down
We've packed a ton of great new stuff into Twitterrific including GIPHY integration, displaying full, auto-playing media right in the timeline, new icons and themes, an improved attachment preview and so much more!
Twitterrific 5.20.6
February 2019
IMPROVEMENTS
Tapping the thumbnail within a quoted tweet will now directly open the media viewer for the quoted tweet
Added a new keyboard shortcut to the main timeline to open a URL from your clipboard: CMD-Control-V
[iPad] Drop a URL dragged from another app on the main timeline to open it within Twitterrific
[iPad] Drag from a tweet's author name, avatar, timestamp, or quoted tweet to drop a link to that tweet into any other app that accepts URLs
[iPad] Drag a thumbnail image from a tweet and drop it into any other app that accepts images
[iPad] Drag any of the above from one account in Twitterrific to another by switching accounts with your other hand while dragging
[iPad] Drag any URL, image, or text from any other app (or from within Twitterrific) and hover over the compose button to open a new tweet
Added a URL scheme that accepts any Twitter URL and opens the tweet or user profile: twitterrific://?url=<url_to_open>
BUG FIXES
Fixed a bug that caused some videos to only loop once instead of indefinitely
Addressed an issue that caused the cache to grow excessively and affect app performance over time
Fixed an issue that caused the keyboard to dismiss after switching apps while the keyboard was visible
REFERENCES
Twitterrific 5.20.5
December 2018
IMPROVEMENTS
Improved performance when rotating between landscape and portrait
Improved VoiceOver interaction with the character counter reset button while composing a tweet
BUG FIXES
Fixed an issue activating following, followers or likes on profiles when using VoiceOver
2 improvements, 1 bug fix
Twitterrific 5.20.4
November 2018
IMPROVEMENTS
Added 5 new custom app icons
Added support for the latest iPads
Added a Presentation setting to disable color-coded tweets
Improved performance of autocompleted screen names and hashtags
User profiles now include the date the user first joined Twitter
BUG FIXES
Character counting is once again in sync with Twitter's latest rules
Fixed an issue that could cause repeated API requests if a user that sent you a direct message was suspended
CIVIC DUTY
If you're a US citizen, Ollie wants YOU to vote on November 6th!
5 improvements, 2 bug fixes, 1 civic duty
Twitterrific 5.20.3
September 2018
BUG FIXES
Fixed an issue that prevented saved searches and lists from reloading after clearing the cache
Addressed several bugs preventing timelines from staying pinned to the top
Automatic refresh now correctly backs off requests when rate limited
There are once again 5 slots when using bottom tabs
4 bug fixes
Twitterrific 5.20.2
September 2018
IMPROVEMENTS
Added a setting to keep timelines pinned to top
BUG FIXES
Fixed a crash when uploading some unusual image formats
Fixed issue that could cause thumbnail images to be resized with the wrong aspect ratio
Removed a stray reference to the defunct Today view from the 3D Touch shortcuts menu
1 improvement, 3 bug fixes
Twitterrific 5.20.1
August 2018
On August 16th, Twitter initiated their plan to shut down several services that Twitterrific and other third party clients have long depended on to provide features you've come to know and love. Twitter's rollout of this shutdown was done in stages so that the affected services would flicker 'on' and 'off' with increasingly long 'off' durations until finally remaining 'off' permanently. The final shutdown date has now arrived and as a result we have removed all of the features from Twitterrific that had become increasingly unreliable over the previous week.
Push Notifications have been removed. Workaround: Install Twitter's official app and enable the notifications you wish to receive. You can still use Twitterrific to read and reply to tweets as usual.
The Today view has been removed. Workaround: Use the notifications tab in Twitter's official app or on the Twitter website.
Live streaming has been removed. Workaround: Twitterrific will now automatically refresh every few minutes while the app is open, or you can manually pull to refresh.
Direct message delivery will be delayed. Workaround: Wait longer, or use the official Twitter app and/or website.
We are sorry for this and wish we had better news. We will continue to work on the app for as long as we can and explore better workarounds where possible. Thank you for being a loyal Twitterrific customer over the years. We are forever grateful.
Bug Fixes
The option to remove emoji from display names now also applies to muffled tweets
Fixed an issue where muffle rules of the form "@username retweets" were incorrectly matching as if they were "retweets @username" rules
A lot of sadness, 2 bug fixes
Twitterrific 5.20
July 2018
Improvements
Presentation setting to remove emoji from people's names in the timeline
Renamed the streaming setting to "Automatically Refresh Timelines"
Bug Fixes
Fixed a crash when uploading videos that were encoded a certain way
Fixed an issue counting characters in the name and location fields when editing your own profile
Fixed an issue that caused the text cursor to jump to the end when editing search terms in the compose view
Fixed a few other rare crashes
Difficult Changes
Prepared for the elimination of live streaming
Removed purchase of push notifications and the Today view
Removed the watch app
Discussion
In the coming months, Twitter plans to discontinue the underlying services that we need to provide both push notifications and live streaming. As a result, we did not feel it was right to keep selling the push notification in-app purchase since we will soon be forced to shut it down. To that end, we've consolidated our in-app purchases to a single "Enhanced" option which eliminates ads and unlocks Google Translate.
If you have purchased push notifications in the past, both the notifications and the Today view will keep working for as long as we can keep them working.
The watchOS app was originally written in such a way that it depended on the data from the push notification service. Since that service is shutting down, it will render the watch app nearly useless without rebuilding it from the ground up. We've determined that the amount of development time and effort required for such a task is simply not economically viable at this time.
WiFi live streaming is another service that Twitter is discontinuing. To work around this, we've implemented more thorough automatic refreshing throughout the app - including for Lists which have never supported streaming. Live streaming will continue to work until Twitter shuts it down at which point the app will fallback to automatically refreshing approximately every 2 minutes while you are using the app.
2 improvements, 3 bug fixes, 3 difficult changes
Twitterrific 5.19.2
May 2018
Improvements
Deleting and editing a quoted tweet no longer loses track of the quoted tweet
Twitterrific's notifications are now removed from Notification Center when the app enters the background instead of when the app is activated
Bug Fixes
Fixed an issue that could cause the app to crash when loading new tweets
Fixed a bug that prevented sending an "=" symbol in direct messages
2 improvements, 2 bug fixes
Twitterrific 5.19.1
April 2018
New Features
Support for attaching a photo or video when sending direct messages:

Tap on the camera icon to pick an attachment from your photo library
Paste a file from your clipboard
Drag-and-drop a file onto the text area from another app (iPad)
Long-press on the camera icon to attach your most recent photo or to browse to a file from another source
Improvements
Tapping on media in a direct message now opens it in the media viewer
Added CMD-D keyboard shortcut to send a direct message to the tweet's author
Suggested muffle rules on a tweet now include relevant deactivated rules
Bug Fixes
Fixed an issue that sometimes prevented loading recent tweets in user profiles
Fixed several issues that could cause crashes when manually clearing the cache
Fixed an issue preventing mentions muffle rules from muffling all mentions
Fixed an issue that could cause incorrect tweet layouts
1 new feature, 3 improvements, 4 bug fixes
Twitterrific 5.19
March 2018
New Features
You can now attach videos to your tweets!

Tap the camera when composing a tweet to select a video from your library
Long-press the camera to attach media from other sources like iCloud Drive
Drag media from other apps into the compose window or copy/paste it
Post a video directly via Twitterrific's sharing extension
Videos must be 140 seconds or shorter

Support for Twitter muting:

Users you have muted on Twitter synchronize with Twitterrific and their tweets are removed from your timelines
Muted users do not generate push notifications
Mute or unmute a user via their profile
All preexisting muted screen names in Muffles are auto upgraded to Twitter mutes

Powerful new muffling abilities that include:

Defining any muffle rule to apply only for a single user
Muffling mentions from a specific person or mentions of a specific person
Muffle tweets that quote someone specific
Avoid seeing retweets from a specific person about someone else
For full details, check out the knowledge base: https://twitterrific.com/help/muffles
Improvements
Improved responsiveness when attaching media to a tweet
Media picker now sorts so most recent photos or videos are at the bottom
Moved the Translate option from the share sheet to the Actions menu
Added a shortcut to mute the author of a tweet to the Actions menu
Added new rule suggestions to the Muffle submenu of the Actions menu
Bug Fixes
Watch app no longer displays the username twice when replying to a tweet
Fixed an issue that caused timelines to display quoted tweets from blocked users
Fixed an issue that caused domain muffle rules to miss certain tweets
3 new features, 5 improvements, 3 bug fixes
Twitterrific 5.18.5
March 2018
Bug Fixes
Fixed an issue that could cause timelines to stop updating
Fixed an issue that caused small PNG images to be converted to JPEG when attached to a tweet
2 bug fixes
Twitterrific 5.18.4
February 2018
New Features
Added badges to user avatars:

Displays if the account is verified or protected
Option to turn badges off under Settings > Presentation

Added Georgia theme font option - a classic serif typeface with great readability
Added drag/drop support (iOS 11+) to the compose window

Drop images from other apps into the text area and they will become attachments to your tweet
Drag images, URLs and text from other apps into Twitterrific and hover over the compose button to quickly add them to a new tweet
Tap on the text area of the compose window and select Paste to attach a photo you may have already had copied to your clipboard
Improvements
A whole new image picker for attaching photos to tweets
Compose displays a spinner while attached photos are processing
Tap and hold on an attached image thumbnail to quickly remove it
Improved performance when attaching photos
Twitterrific is smarter about removing previously deleted tweets from the timeline
Improved performance when importing messages and tweets
Improved performance when loading long discussion threads
Improved readability of disabled muffle rules in the black theme
Added haptic feedback when toggling like/retweet in Center Stage mode; the UI now also updates immediately
Added haptic feedback after long-pressing the camera button to attach your most recent photo
Added a Presentation submenu to settings and moved several options into it
The share sheet displays an icon when the host app only provides a link to share
Bug Fixes
Fixed missing high resolution pull to refresh animation frames
Fixed an issue that sometimes prevented photos from attaching
Fixed clipped descenders when using Calluna font
3 new features, 12 improvements, 3 bug fixes
Twitterrific 5.18.3
January 2018
Improvements
Threads now always display in chronological order for consistency
Toggling retweet/like now updates the UI immediately
Added haptic feedback when liking/retweeting
Added haptic feedback when pulling to refresh
Adjusted sizing/behavior of the reference tweet when replying/quoting

Tap the reference tweet to expand / collapse it when composing
More space when composing on devices with small screens

Re-positioned the unread indicator dot after the timestamp (less distracting)
Configuring push notifications and viewing the Today view works from behind more firewalls and proxies
Added a Report Abuse option to the tweet actions menu
Copy-protected Twitter videos open a browser instead of a static image
Improved performance in various places
Bug Fixes
Fixed instances when the Image viewer failed to display hi-resolution media
Fixed an old decoding bug that could cause truncated tweets when translating
Fixed an accessibility bug that prevented selection of the thread/replies switch when viewing discussions with VoiceOver
Fixed an accessibility bug that sometimes prevented VoiceOver from being able to access the save search button
Fixed an issue where the app thought it was still streaming when in fact it had disconnected
Fixed retweet/like/location badges from appearing behind the notch on an iPhone X in landscape
Other
Removed support for Storify since they are shutting down
Keyboard shortcut for switching tabs changed from "Control-Tab" to "Option-Tab"
10 improvements, 6 bug fixes
Twitterrific 5.18.2
December 2017
Unlocking alternative app icons with the tip jar wasn't working reliably for some of you, so we've decided it was better to unlock all of them for everyone until we have time to sort out what went wrong. Enjoy!
Twitterrific 5.18.1
December 2017
Bug Fixes
Fixed a layout issue with profiles when running iOS 9 or 10
Added 3 more larger text size settings
Adjusted in-app browser tint colors to match the theme
Adjusted the sizing of reference tweets when quoting or replying
Tapping the reference tweet when quoting or replying toggles the keyboard
Fixed several crashes
6 bug fixes
Twitterrific 5.18
December 2017
New Features
Automatic poll detection

New button appears at bottom of tweet if common markers are found
Tag a tweet with #poll or use a graph or ballot box Emoji at beginning or end

Re-designed/Expanded Theme Panel

New true black theme is especially useful on iPhone X
Support for avatar shapes - rounded rect, squircle, circle and square
Improved font size selections
Bonus app icons can be unlocked by using Twitterrific for Mac or the Tip Jar
Improvements
Muffle rules can now be deactivated without having to delete them and will automatically deactivate themselves after 60 days of inactivity
Muffle editor now shows totals for the number of active rules in each section and a grand total at the bottom of the screen
More improvements to smart invert
Now prefers to display the username on tweets if there isn't enough space for both the username and display name
Added an unread indicator dot to tweets
Unified/improved the colors for the default themes
Added support for the Dynamic Type accessibility feature
Refreshed the More Actions icon
Quoted tweets now include a timestamp and respect the hidden thumbnail mode
The text of quoted tweets now flows around the media thumbnail (if any) to save vertical space
Avatars on profile views now render using your preferred avatar shape
Jolly Ollie
Bug Fixes
Fixed the button indicators for tweets that have been both liked and retweeted
Fixed a bug that caused the sidebar to scroll to the top whenever it appeared
Regex muffle rules now correctly display their name instead of full rule text
Fixed some issues rendering Arabic text in certain situations
Fixed layout of profile views on iPhone X
2 new features, 12 improvements, 5 bug fixes
Twitterrific 5.17.9
November 2017
New Features
Support for sending tweets with up to 280 characters
Muffle long tweets:

Hide tweets that have more content than you'd like
Muffle tweets by character count by simply adding a rule like: > 140
If you want to muffle multiline tweets, use a rule like: > 3 lines
Improvements
Replies in discussion timelines are now sorted first by popularity
Keyboard now appears at the same time the compose view is appearing
Physical keyboard shortcut for opening the selected tweet's author profile was changed from CMD-U to CMD-Shift-U
Bug Fixes
Fixed a bug causing the target tweet to disappear when viewing replies
Fixed an issue displaying names that included unusual characters
Fixed position of the media player timestamp on iPhone X
Fixed iPhone X layout issues on the Tip Jar and Advanced Features screens
Fixed positioning of the in-app notification banner on iPhone X
Fixed some iPhone X landscape layout issues on the compose screen
Fixed layout of the text entry box in a direct message threads on iPhone X
Fixed iPhone X layout bugs on the compose screen
2 new features, 3 improvements, 8 bug fixes
Twitterrific 5.17.8
October 2017
New Features
Added ability to muffle or mute tweets by Twitter client
Unlock 3 new app icons by using Twitterrific for Mac
Improvements
Improved scrolling performance
Improved Smart Invert for the media viewer and profiles
Reduced memory used by the image cache
Bug Fixes
Fixed issue that sometimes prevented images from loading
Fixed issue preventing translation from working on some tweets
Fixed issue preventing magic scroll from stopping at the last unread tweet
Fixed connectivity issue with the watch app
2 new features, 3 improvements, 4 bug fixes
Twitterrific 5.17.7
October 2017
Improvements
Support for Smart Invert (iOS 11)
Authentication can now access stored twitter.com passwords that were previously saved by Safari (iOS 11)
Added a prompt for App Store review at most once per version (iOS 10.3+)
Improved performance of internal data management
Improved scrolling performance
Bug Fixes
Fixed crash when attempting to save an image to your photo library (iOS 11)
Fixed an issue that interrupted scrolling when dragging on a tweet control (iOS 11)
Fixed issue causing some quoted tweets to have an incorrect height
Fixed layout issues with direct messages
Restored the sticker pack (iOS 10+)
Fixed bug that could cause significant battery drain
5 improvements, 6 bug fixes
Twitterrific 5.17.6
September 2017
New Features
Added a share sheet to enable tweeting with Twitterrific from within other apps (iOS 11)
Improvements
Bug Fixes
Links to Kickstarter projects once again show a thumbnail image
Fixed a bug that made it impossible to delete lists
Fixed a bug that could cause duplicated or orphaned database records
Tweet deletion events are now handled properly while streaming
Fixed an issue that prevented retweets from appearing when viewing recent tweets of someone you do not follow
Fixed a bug that could cause your own tweets that quote another tweet to appear in your mentions tab when streaming
1 new feature, 2 improvements, 6 bug fixes
Twitterrific 5.17.5
July 2017
Bug Fixes
Fixed an issue that prevented loading as many recent tweets as possible
Timelines no longer jump to the top when large numbers of tweets are loaded
Fixed a bug when displaying tweets that contain decoded HTML entities
Switching timelines now correctly marks tweets below your reading position as read
4 bug fixes
Twitterrific 5.17.4
June 2017
Improvements
Added support for thumbnails from vsco.co
Tapping the body of a tweet in Center Stage mode opens the tweet's discussion
When composing a reply, tapping or swiping down on the title bar will hide the keyboard and reveal the tweet being replied to. Useful for small-screen devices
Scrolling to the top of a timeline by tapping the status bar or currently selected tab (Magic scroll) no longer marks the intervening tweets as read
Magic scrolling now first jumps to the current reading position marker OR the last unread tweet - whichever is older
Improved scrolling performance in timelines and when entering the background
Regular expression muffle rules are applied to the text of the tweet as well as any expanded URLs they may contain
Adjusted some timeline keyboard shortcuts:

CMD-Shift-N - Quote tweet
Spacebar (or Up Arrow) - Advance to next tweet
Return key - Open media
Bug Fixes
Avatars should no longer go missing while composing a tweet
Fixed bug preventing reply chain participants from appearing in quoted tweets
Fixed issue preventing attachment of location to tweets
Fixed incorrect locations when viewing the map for a geolocated tweet
Fixed an alignment issue on the Today view when a tweet has more than 1,000 likes or retweets
Fixed a bug that could cause tweets to be incorrectly sized
Fixed history search
Tabs no longer appear on the bottom in landscape mode for some iPads when the "always show sidebar in landscape" setting is enabled
Removed support for importing Twitter accounts which avoids Twitter reauthorizations
8 improvements, 9 bug fixes
Twitterrific 5.17.3
May 2017
Bug Fixes
Resolved issue causing 3D Touches and normal taps to sometimes activate different elements
Fixed crash when app entered the background
2 bug fixes
Twitterrific 5.17.2
May 2017
Bug Fixes
Fixed an issue preventing old data from being purged from the database
1 bug fix
Twitterrific 5.17.1
May 2017
New Features
Alternative app icons! If you are running with iOS 10.3+, the theme panel supports switching between several new app icon designs so you can choose the one that best matches your home screen. Tap the bottom, center icon of the sidebar to open the theme panel and select an alternate app icon.
Bug Fixes
Fixed a bug causing long reply tweets to be truncated to 140 characters if they were received while streaming
Fixed missing participants for reply tweets with certain font and text size configurations
Fixed clipping of emoji with certain font and text size configurations
Fixed several issues that prevented trends from appearing
1 new features, 4 bug fixes
Twitterrific 5.17
April 2017
New Features
Replies have been redesigned to conform with Twitter's new display guidelines. The screen names of participants in the conversation are displayed on a single line just below the name of the reply author.

Tapping on (or previewing with 3D Touch) the participants opens the conversation thread
Long-pressing on the participants (or drag up while previewing using 3D Touch) allows quick access to their profiles

Responding to multiple people now includes an editor for choosing the recipients

Tap the clear button (X), hit backspace on the keyboard, or tap on the character counter to quickly remove all but the author of the tweet you are replying to
Improvements
Tweet and quoted tweets hide the screen name if there isn't enough horizontal space to display both the screen name and the full name side by side
Keyboard focus is restored after attaching images to a tweet
Viewing a quoted tweet that quoted a different tweet now displays it properly instead of showing a link to Twitter
Tapping on a profile's header image opens the full resolution image
Added physical keyboard shortcuts to direct messages: Navigate threads with up/down arrows, CMD-T (or spacebar or return) to open the selected thread, CMD-N (or tab or return) to move focus to the input field, CMD-W to close a thread
Up/down arrow keys on a physical keyboard will now select the first visible tweet if on a timeline without a currently selected tweet
Selecting a tweet (manually or via keyboard) marks it and everything older as read
Improved performance when autocompleting mentions or hashtags
Improved timeline scrolling performance
Bug Fixes
Fixed an issue with the image attachment panel that could allow it to attach too many additional images to a tweet that already had images attached
Fixed memory leaks when composing a tweet
2 new features, 9 improvements, 2 bug fixes
Twitterrific 5.16.9
March 2017
Bug Fixes
Addressed issue that may have been preventing the app from launching in some cases
Fixed misattribution of quoted tweet when composing a response
2 bug fixes
Twitterrific 5.16.8
March 2017
Improvements
When changing tweet selection with a physical keyboard, the selection skips muffled tweets
When choosing a thumbnail to display for a tweet, thumbnails with accessibility alt-text are preferred
Improved performance when opening reply chains
Improved performance when evaluating a large number of muffle rules
Reduced memory usage during app launch and when loading a timeline
Bug Fixes
Fixed an issue that could cause new follower notifications to crash the watch app
5 improvements, 1 bug fix
Twitterrific 5.16.7
March 2017
Bug Fixes
Fixed issue that caused a crash at launch when running on iOS 9
1 bug fix
Twitterrific 5.16.6
March 2017
Improvements
Reduced base install size by ~25%
Bug Fixes
Fixed issue that sometimes prevented background refreshes
Fixed crash when using the "Assign to Contact" share action on an image
Fixed crash when refreshing previous purchase receipts
Fixed conflict between the account switching gesture and the system's multitasking gestures on iPad
Fixed an issue that prevented banner ads from disappearing immediately after purchasing Ad Block
NOTE: Banner ads have been redesigned (they only appear if you have not purchased the Ad Block Advanced Feature)
1 improvements, 5 bug fixes
Twitterrific 5.16.5
February 2017
Bug Fixes
Fixed an issue composing and editing multilingual tweets
1 bug fix
Twitterrific 5.16.4
February 2017
Bug Fixes
Fixed a crash when deleting a saved draft
Fixed a crash when navigating within the photo picker
Addressed an issue that could sometimes cause the wrong text color when composing a reply
Tip Jar subscription cancelations are now correctly detected
4 bug fixes
Twitterrific 5.16.3
February 2017
With this release we are introducing an optional low-priced monthly Tip Jar subscription. If you subscribe, the Tip Jar will remain hidden on all of your devices for the duration of the subscription. We really appreciate your regular support. Thanks from Sean, Gedeon, Craig, and the rest of The Iconfactory crew!
Improvements
The video playback timestamp has been moved to the top right of the screen
Video playback timestamp no longer scales with the video when zooming
Bug Fixes
Fixed crash when inserting a saved draft into a tweet
Fixed crash when tapping the One Password button while adding a new account
Fixed a layout issue when a banner ad failed to load
2 improvements, 3 bug fixes
Twitterrific 5.16.2
February 2017
Improvements
Muffle and mute rules track the number of days since they were last used so you can more easily prune them if you wish
Updated the character counting rules to recognize new top-level domain names
Blocking a user from the direct messages list will now immediately refresh the view so that their direct messages disappear immediately
Improved performance of mute rules
Several general performance tweaks
Bug Fixes
Fixed issue preventing restoration of paid features on small screen devices
Fixed a crash that could occur when replying to a tweet
Fixed an issue causing the authentication web view to appear blank while importing a new account
Fixed double '@'s in screen names when copying conversation text to clipboard
Fixed an issue that prevented cancelling loading of long reply chains even if the discussion popup was closed
Fixed layout of the timeline filter field which could sometimes have the wrong size and/or incorrectly positioned magnifier icon
Fixed an issue that would cause an unnecessary timeline load during app launch or when switching accounts
Fixed a bug when replying to a tweet that could sometimes allow you to backspace the text editing cursor into the un-editable screen name where it would then get stuck
Fixed several crashes
NOTE: Banner ads (if enabled) no longer scroll with the timeline content
5 improvements, 9 bug fixes
Twitterrific 5.16.1
December 2016
*** If you're enjoying Twitterrific's Center Stage improvements, please consider leaving us a rating / review in the App Store or even better drop a small thank you in the Tip jar. Thanks from the Twitterrific team! ***
Bug Fixes
Standalone media views can be dismissed by tapping anywhere outside of the image/video content, by swiping anywhere on screen, or by using the close button
Audio from videos will now play even if your device's ringer switch is muted
Center Stage no longer shows media from muffled tweets
Clearing the find filter at the top of timelines now works correctly on iPad
Fixed an issue where displayed media could suddenly change to images/vids from a completely different tweet and/or reset the page position for multi-image tweets when streaming
Physical keyboard left/right keys now work correctly when viewing media for tweets with multiple images while in the standalone view
6 bug fixes
Twitterrific 5.16
December 2016
Center Stage: A whole new way to see your tweets!
Tap the new Center Stage button at the top of any timeline to open a full screen view where you can swipe through all of the tweets that include photos, movies, or animated GIFs.
When you're in Center Stage, you can tap on the tweet to exit or swipe left/right to navigate through your timeline. You can even Like or Retweet directly from Center Stage! A single tap will get the on-screen controls out of your way and swiping down will close the tweet drawer so there's nothing between you and the media you're viewing.
The traditional media experience has also been improved - after tapping on a thumbnail to view it, there is a new button at the bottom of the screen which allows you to enter Center Stage right from there. If you swipe to other tweets, a rewind button appears that'll take you back to where you started. Handy!
Center Stage isn't just for your timeline - from a profile screen, you can tap on any of the thumbnails and enter Center Stage where you can see the tweet that the image was attached to as well as swipe through their other recent media tweets without even having to open a timeline.
Center Stage is fully VoiceOver compatible and includes support for physical keyboards.
Improvements
Tapping on an animated GIF or video will toggle play/pause
Ability to pinch zoom photos, videos, and animated GIFs
Improved audio ducking performance when viewing a video
Tweets that quote your own tweets are now color-coded as mentions
Reduced popup background blur opacity
Photo zoom levels no longer reset when higher resolution versions finish loading
Visual tweaks to the timeline search bar for a cleaner, less cluttered look
Phrase muffle rules now look for a word boundary on both ends of the phrase
Muffle phrases can include a prefix and/or suffix of "*" to act as a wildcard match
Shared conversation threads and reply chains now sorted from oldest to newest
Eliminated several causes of extraneous requests to Twitter's API
Leaving a timeline no longer clears the search field
Added a sound effect when un-liking a tweet
Removed img.ly support since it is defunct
Bug Fixes
Fixed issue auto-refreshing timelines when a push notification arrived
Fixed rendering problem when viewing a message thread on iPhone
Fixed scroll jumping when a message thread first animates into view
Fixed an issue where the background blur flickered when dismissing popups
Fixed rendering bugs with photo loading progress bar
Fixed an issue displaying single-frame GIFs
Other minor bug fixes and performance tweaks
1 new feature, 14 improvements, 7 bug fixes
Twitterrific 5.15.5
October 2016
New Features
Quotes of your own tweets now displayed in these timelines:

Home (unless unified timelines is disabled via Settings)
Mentions

Added a new font under Themes: Amelia
Improvements
More of the reference tweet when replying or quoting is now visible (important for devices with smaller screens)
After sending a direct message with the keyboard in an alternate mode (such as symbols or numbers), the keyboard is reset back to the default
Simplified the native video player's presentation
Added a new font size setting in Theme panel at 135%
Restoring purchases now prompts if the receipt is invalid or isn't found
Optimized automatic timeline refresh instances and rates
Decreased background fetch frequency to reduce battery usage
Improve network performance and decreased power utilization
Performance improvements to decrease app launch times
Improved performance when loading tweets
Bug Fixes
Large animated GIFs with many frames no longer crash Twitterrific
Fixed issue preventing updates until the app was killed or the cache cleared
Fixed an issue that caused the trends list to appear empty
Fixed an issue that loaded too much data while viewing a conversation thread
Fixed crashes that could occur when the app was entering the background
Fixed a crash when inserting a saved draft into a tweet
Fixed several issues that resulted in timelines scrolling unexpectedly
Fixed an issue that continued to show ads after purchasing ad removal
Fixed an issue that could prevent a user's recent tweets from loading
Fixed a bug preventing cancelation of avatar and thumbnail downloads as they scrolled off screen
Resolved gesture conflicts in the video player between swiping to dismiss, tapping to dismiss, and swiping to scrub the video
Fixed a bug preventing proper text selection when composing a reply
Workaround for iOS 10+ that prevented CMD-W from closing the browser
Workaround for iOS 10+ for VoiceOver navigation issues when filtering a timeline or recipient list
2 new features, 10 improvements, 14 bug fixes
Twitterrific 5.15.4
October 2016
New Features
Twitterrific now features an adorable iMessage Ollie sticker pack! (iOS 10+)
Tap a tweet's timestamp to reveal the client that was used to send it
Improvements
When replying to a tweet, the original author's screen name can no longer be removed or edited
Today view no longer displays events from people you have blocked
Swipe on an event in the Today view (such as a like, retweet, or follow notification) to block that person
Bug Fixes
Fixed a bug that prevented Open in Chrome, Open in Firefox, and Copy Link from working correctly
Fixed incorrect character count after pasting or removing a photo when composing a tweet
Can no longer pull to refresh while the timeline search is activated
Certain errors from Twitter that were being silently ignored now generate an alert
Addressed an issue that may have caused network requests to fail until the app was restarted
NOTE: Only tweets downloaded since upgrading to this version will have the necessary information to show which client the tweet was sent with. Clearing your tweet cache will force the app to re-fetch all tweets immediately if desired.
2 new features, 3 improvements, 5 bug fixes
Twitterrific 5.15.3
September 2016
Improvements
Support for Twitter's new longer tweet format

Images no longer count against the tweet character limit when using Twitter's image service
When quoting a tweet, all 140 characters are now available for use
Replies to tweets no longer count screen names that are part of the reply chain against the character limit

Added haptic feedback when swiping for reply/conversation on tweets (iPhone 7)
Screen name/hashtag suggestions no longer autofill when tapping spacebar - tap the @ or # or Return keys to autofill the first suggestion automatically
Popups that open as a result of tapping a push notification no longer stack on top of previously opened popups
Copying links to tweets to the clipboard now copies the secure https URL
Bug Fixes
Worked around a bug causing the keyboard to randomly disappear on iOS 10
Fixed a bug preventing the new tweet sound effect from playing
Disabled the image attachment button when quoting a tweet if using the Twitter image service (Twitter doesn't natively allow attaching images to quoted tweets)
Fixed crash if push notification registration failed
Fixed crash when attempting to use the camera
Fixed animation when selecting a photo to attach to a tweet
5 improvements, 6 bug fixes
Twitterrific 5.15.2
September 2016
Improvements
If Twitterrific is open when a push notification for a reply, mention, quote, or message arrives, the timeline will automatically refresh
If you tap Send while an autocorrect suggestion is still visible, the correction is now applied to your tweet before it is sent
Improved performance when refreshing the home timeline while on a slow internet connection
Increased face recognition accuracy on devices with an A9 or better CPU
Improved web cache size management to reduce used storage space
Bug Fixes
Fixed a crash that could occur when viewing saved drafts
When using non-twitter image services, the count of characters remaining is no longer off by one
Improved reliability restoring previous purchases on iOS 10
Fixed missing share sheet URL label on iPhones running iOS 10
5 improvements, 4 bug fixes
Twitterrific 5.15.1
August 2016
Improvements
Background refresh will now refresh all timelines (a saved search, list, etc) that have been loaded into memory - not just the timeline that was last in the foreground
The "Mark All Read" button was moved to the top of the direct messages list
Phrase and keyword muffle rules now match if the phrase begins OR ends with a word boundary instead of requiring the whole keyword or phrase to have a boundary on both sides - this improves detection of plurals and possessives
Muffles are now sorted case insensitively
Added new thread detection heuristics for tweet storm threads that aren't properly self-replied
Performance enhancements
Bug Fixes
Fixed layout of tweet action buttons on narrow phones
Fixed the size of the unread tweet count indicator to support larger numbers
Fixed problems that could cause search and lists to disappear from the sidebar
Fixed a bug that caused the loading indicator to flicker between start/stop states
Fixed a bug where the timeline would sometimes unnecessarily refresh itself when replying to a tweet or changing settings
Opening a direct message thread no longer triggers a refresh of your messages
Fixed a bug that caused trends to refresh more often than necessary
Fixed an issue causing the list of trends to appear behind the keyboard
Dismissing the keyboard no longer causes trends to disappear
Fixed an issue that caused the timeline search bar to disappear
Fixed a bug preventing push notification settings from showing checkmarks the first time it was opened
Fixed a bug that prevented notification banners from appearing in-app
VoiceOver no longer says "refreshing content" during a background refresh
Fixed a crash that could occur due to a network error
6 improvements, 14 bug fixes
Twitterrific 5.15
July 2016
Features
Improved tweet discussions:

The thread view loads a complete discussion chain or tweet storm no matter if the linked tweet was first, last, or somewhere in the middle
The replies view shows replies and quotes of the tweet and will update in realtime if streaming is enabled

Reply, Retweet, Quote, or Like a tweet from ANY account:

Tap and hold on a tweet's reply, retweet, quote, or like button to quickly respond or take action from another Twitter account instantly
Improvements
Quoting a tweet now has a unique button when selecting a tweet instead of being hidden in the action menu
Added "Message" to the tweet action menu to simplify sending a direct message
Improved highlighting of the subject tweet inside discussion views to better distinguish them from the surrounding replies
Retweet your own tweets
Tapping on a quoted tweet will always open the discussion in thread view
Accessibility: Length of photo description text is now validated before being sent to avoid silent omissions
Improved initial app responsiveness after Twitterrific returns from the background
Several performance improvements
Bug Fixes
Fixed an issue preventing replies to retweeted tweets from loading
Fixed a bug that could cause endless loading when viewing a conversation with someone you have blocked
Fixed a problem that would sometimes cause the refresh animation to run forever
Fixed issues that caused images and avatars to flicker when Twitterrific returned from the background
Fixed a bug that could prevent the timeline from refreshing until it was first scrolled
2 new features, 8 improvements, 5 bug fixes
Twitterrific 5.14.5
June 2016
Improvements
Audio from other apps will now duck when playing a video instead of being interrupted
Bug Fixes
Fixed copying links to the clipboard
Fixed an issue preventing opening links in external browsers
Fixed a bug that could cause the timeline's find box to appear stuck on screen
Fixed issues with long currencies on the tip jar and advanced feature purchase buttons
Fixed an audio stutter when coins dropped into the tip jar
The tip jar's sound effects respect the silent switch and ring volume level
Previously sent tweets should no longer reappear in the tweet composer
1 improvements, 7 bug fixes
Twitterrific 5.14.4
June 2016
New Features
Inline search field at the top of most tweet timelines

Physical keyboard users can use CMD-F to quickly activate/deactivate searching
Search supports regular expressions when prefixed with "::"

Added Ollie's Tip Jar so you can show us how much you love us (or not)

The tip jar shows up in the sidebar 30+ days after you've purchased at least one of the preexisting advanced features
After buying a tip, the jar disappears from the sidebar and reappears again after 30 days
The tip jar will quietly wait in anticipation of your spontaneous (and completely voluntary) generosity
Improvements
Sharing a link to another app sends both the URL and the text of the tweet that the URL was shared from (for activities that support it)
Sharing a thumbnail sends the thumbnail's URL to the selected activity
Improved sharing thumbnail images to Pocket
Added support for case-sensitive regular expression muffle rules
Improved UI performance of long direct message threads
Direct messages now support the same VoiceOver rotor actions as tweets for navigating links/media/sharing
After attaching an image when composing a tweet, VoiceOver now announces when the image has finished processing and is ready to send
VoiceOver reads both the real name and screen name of the sender/retweeter
Bug Fixes
Fixed an issue that caused blocked users to sometimes reappear in the timeline
Fixed an issue that caused retweets to appear from users with disabled retweets
Fixed an issue that could cause multiple image tweets to display a single image
Fixed a problem preventing Notification Center notifications from opening the tweet or profile
Fixed some layout problems when quoting a tweet
Composing a new tweet should no longer sometimes default to the text of a previous tweet
Tweets are no longer unmuffled when navigating the timeline using a physical keyboard or with VoiceOver
Reading direct messages with VoiceOver now indicates if there's attached media or not
Fixed several crashing bugs
2 new features, 8 improvements, 9 bug fixes
Twitterrific 5.14.3
May 2016
New Features
After attaching an image to a tweet, you can tap on the thumbnail to add a description for the visually impaired
VoiceOver automatically reads descriptions for images that have been annotated with alternate text
Improvements
VoiceOver functionality on tweets now supports standard accessibility actions
VoiceOver reads if there is an image or quote attached before the timestamp
Improved VoiceOver interaction when changing tweet selection via the keyboard
Push notifications for quoted tweets offer the same actions as mentions
Streaming no longer displays retweets for users with disabled retweets
Enabling/disabling retweets for a user works more reliably
Added the swiping cursor navigation gesture to all text fields
Bug Fixes
VoiceOver and the visual interface's current tweet selection should no longer get out of sync
VoiceOver can access the mark unread/delete thread actions in the direct messages inbox
Fixed VoiceOver navigation of direct message threads
Tapping a timeline tweet now sets focus as expected for keyboard shortcuts
Fixed a bug that would occasionally freeze the app while scrolling
Fixed a bug that caused the creation of new lists to fail
Fixed a bug that caused saving a search to fail
2 new features, 7 improvements, 7 bug fixes
Twitterrific 5.14.2
April 2016
Features
All new Direct Message interface

threaded view
image thumbnails
easily search for the person you want to message when starting a new thread
delete entire threads by swiping on them
Improvements
Added keyboard shortcuts throughout the app - hold down the command key on your physical keyboard to see what's available
Movie player now uses standard iOS media player and supports picture-in-picture
Improved readability for tweets in right-to-left languages when small thumbnail mode is enabled
Timestamps on old tweets and messages are now displayed with an absolute date
Tapping on the name of a Today view event now opens the profile of the person, whereas tapping on the message text opens the tweet
Added ability to paste images from the pasteboard directly into the text area when composing a tweet
Added smart quote support to the profile editor
Bug Fixes
Swiping to dismiss the in-app browser no longer also dismisses popups behind it
Fixes for several issues with the photo picker
Fixed cache data accumulation which would slow down the entire app until it was manually cleared
Fixed stray blank lines on image-only tweets
Fixed a bug that would cause the app to stop working properly after viewing the profile of someone you have blocked or who has a protected account
Fixed a bug that could cause the "Communicating with Twitter" message to stick until manually cancelled
Fixed issues detecting when an account's access has been revoked
1 new feature, 7 improvements, 7 bug fixes
Twitterrific 5.14.1
February 2016
Improvements
Re-enabled the twitter keyboard (except on the iPad Pro)
Removed "Last 24 hours" label from the watch app's glance
Bug Fixes
Fixed text color for 'likes' on the watch app's glance
Fixed issues with using the camera in landscape
Fixed all known causes of the most frequent crashes
Fixed a crash when displaying tweets that mixed right-to-left languages with left-to-right mentions in certain combinations
2 improvements, 4 bug fixes
Twitterrific 5.14
January 2016
Changes
In accordance with Twitter's new guidelines, "favorites" are now "likes"
Unified timeline no longer includes direct messages
Requires iOS 9.2+
Watch app requires watchOS 2+
Features
All new redesigned Today view:

See likes, retweets, follows, and quotes all in one place
Configure the display to show any combination by toggling each type of event on or off
Long press a toggle button to switch between showing all events or just the events of that type
Sort the view by recent events or your most popular tweets
3D Touch events to get a quick preview, or tap them to jump straight to the relevant tweet or profile

Refined profile view includes a selection of photos and thumbnails for recently posted media by the account
Improvements
Tab bar supports 5 buttons on iPad, and on iPhone when on the bottom or in landscape
The tab bar can be set to the bottom in portrait on the iPad (formerly only an option on iPhone)
Sidebar button shows an unread badge when there are unread direct messages
Added "Open In Firefox" to share sheets for links and as a browser option (appears if Firefox is installed)
Improved streaming reliability
Streaming automatically connect when you join a wifi network while the app is open
Added "Share" to the options menu for tweets (same as long pressing on a tweet)
More robust network error handling and automatic retry logic
Improved the transition between popups and Safari View Controller
Added URL schemes to clear all muffle rules and the cache
Reduced memory usage
Variety of performance enhancements
Bug Fixes
Fixed several visual glitches with the refresh control
Fixed bug causing dismissed photos to animate in slow motion
Fixed issue causing the keyboard to appear while taking a photo
Fixed freeze when dismissing images while the status bar was double-height (such as during a call)
Fixed the incorrect size of the suggestion bar when composing tweets
Fixed bug that delayed automatic switching of day/night themes
Fixed failures when uploading a new avatar image
Fixed the cropping tool when editing a new avatar on iPad
Fixed layout of tweet divider lines and timeline marker on iPad
Fixed an intermittent issue preventing access to VoiceOver actions on tweets
Fixed several layout issues in small thumbnail mode
Fixed avatars and usernames from disappearing on like/retweet notifications on the Apple Watch
Fixed incorrect size of compose window when replying to a tweet from within a popup on iPad
Fixed layout bugs with quoted tweets
Fixed issue that kept data from being purged from the cache
Fixed several sources of crashes
2 new features, 12 improvements, 16 bug fixes